It may be called competences, character skills or social and emotional learning but it does not matter what it is called; it has nothing to do with an academic education; and it is being used to explain away the attainment gap between the better off and the poor.
Bright children who lack "grit" and "resilience" are more likely to end up with worse jobs and lower salaries than their classmates with good social and emotional skills, according to a new study. The research, which called for schools to put more focus on improving personal traits, also found that "character" boosted poorer children's chances of breaking free of deprivation and going on to get a "top job".
Children of professional parents are more likely to end up in higher-earning jobs and researchers calculated that 10 per cent of this advantage was due to better character skills.

[Therefore ninety percent was not ! ]
It was extremely "worrying", said the report, that poorer children showed worse behaviour, self-control and emotional health by the age of three than those from wealthier homes. It called for early intervention to boost children's social skills before they start school....
They called for all those working with children to put more emphasis on character building and warned that schools risk putting too much emphasis on literacy and numeracy and fail to equip pupils with the life skills needed to be happy and healthy. Self-control was the most important skill children should be taught, followed by self-esteem and the belief that their actions make a difference.

[If you want to dumb children down forget literacy and numeracy.]
http://www.independent.co.uk/news/uk/home-news/character-is-the-key-to-poorer-children-securing-top-jobs-says-study-10124202.html
#
What this approach on `soft skills` allows the government to do is to blame the poor for their predicament whilst encouraging more state intervention and control. It will also ensure that children grow up ready to blame themselves when life does not turn out as they hoped.
It cannot explain the current income gap which is widening.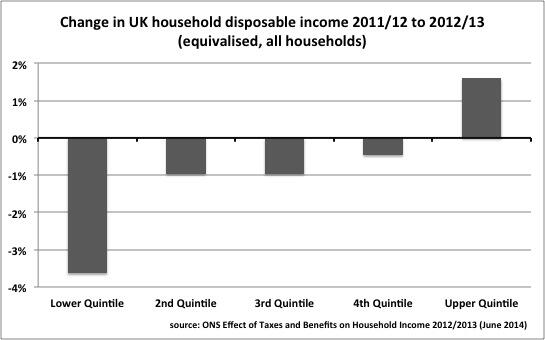 Britain's richest people are now better off than before the financial crisis, having seen their wealth grow 64 percent, according to a new report. Low income groups meanwhile have seen their share plummet, prompting warnings of "extreme inequality."
http://rt.com/uk/239237-inequality-rich-poor-uk/
For that, blame the banks, bail-outs and austerity.