"If the Underwear Rule can become just as well known to children, we can stop abuse early, or even before it starts."
What a statement from the Herald reporting on a new campaign! Actually FOCUSSING on children`s underwear has got to be a paedophile`s obsession, surely, and nothing any normal parent would want to encourage. Who dreamed up this acronym and this ludicrous campaign?
Well, according to the article it was the NSPCC who launched a 6 week radio advertising campaign in Scotland. You know, that same third sector charitable organisation which had much to say in the GIRFEC consultation in Scotland but which few parents knew about. - the same charity involved in the Victoria Climbie case. Read: NSPCC doctored information
Their reason for the campaign is to make protecting children as easy as getting them to eat their vegetables. Yeah right! Tell children to say No and `we can stop abuse early, or even before it starts.`So if any child does not say NO properly they have only themselves to blame. Should we approve of that subliminal message? I don`t think so.
As if it is down to children to keep paedophiles in check!
More likely this campaign is another excuse to allow Childline to get closer to other people`s innocent children as well as a campaign for more money. Isn`t it strange that Childline claims it does not have the funds to answer all telephone calls but it can go into every primary school in Scotland?
Esther Rantzen, founder of Childline, has an appalling record of failing to help abused children. Admitting that BBC staff `blocked their ears` to the rumours surrounding Jimmy Savile, she is also a trustee of the NSPCC. Relationships in these charitable organisations are always cosy. Nowadays the NSPCC and Childline are one and the same.
There are suspicions that Childline, like Crimestoppers, is a gatekeeping front organisation to weed out child abuse reports involving VIPs. Given the length of time that the Jimmy Savile abuses took place and the number of his victims it would be naive to assume there were no cover ups by the BBC.
The Jillings report into abuse in care homes in Wales has recently been released after being suppressed for almost 20 years. The report states: `Time and time again the responses to indications that children may have been abused have been too little too late.` Speak up - someone can help,` according to the PANTS campaign, but that depends on who you are and who is abusing you, does it not?
One reader responding to the blog of a child abuse survivor who wrote `Cry Silent Tears` has this to say about the NSPCC and Childline.
`re the NSPCC. I have long held many suspicions about this so called charity and also Childline. I know of at least one instance of both failing to help a neglected child left home alone since I was the person that reported the parents to both and saw they did absolutely nothing. I agree with the above too about the extensive and expensive TV advertising which pleads for donations rather than using the opportunity to promote their helpline numbers thereby extending a lifeline perhaps to kids who might need their help.`
`Does not surprise me one bit if they are indeed providing their staff with flashy cars. Disgraceful. Since reading your book Joe I have read many others and most recently `Unloved` by Peter Roche. This is particularly relevant here in discussing the NSPCC, since his photograph as a dirty, neglected and abused child, taken by Lord Snowdon, was used to promote the NSPCC`s fundraising efforts for many years!!!!!!`
`

Interestingly this author mentions that he still went on to suffer for many years AFTER the NSPCC became aware of his plight. No doubt Lord Snowdon made a nifty few bob for his part in this promotion paid for probably out of the NSPCC`s advertising budget.`
It`s about time the NSPCC and Childline started manning the telephone lines in order to respond to the children in need, who mostly want help for being bullied at school, instead of harassing parents and frightening innocent children with superficial and nasty minded campaigns.
Campaign aims to help parents warn children about abuse
A NEW campaign by a charity aims to make protecting children from sexual abuse as easy as teaching them to eat their vegetables or learn the Green Cross Code.
The campaign will be supported by the Childline charity's schools service, which will visit every primary school in Scotland.
It has also been backed by Scotland's Commissioner for Children and Young People, Tam Baillie, who said: "The simple messages in the NSPCC Underwear Rule can be used by parents and carers to raise these difficult issues in a way which children can understand."
The launch comes amid heightened awareness of sexual abuse following the revelations about Jimmy Savile and other high profile celebrities. However, experts warn assaults by celebrities or strangers are far less common than abuse carried out by a relative or someone a child knows.

[Disingenuous. There`s no way to compare figures if there are no thorough investigations of child abuse in public institutions.]
That message is getting through according to a YouGov poll carried out for the NSPCC that found 74% of Scots recognised that relatives (34%) or acquaintances, neighbours or family friends (40%) pose the biggest risk of sexual abuse to children.

[Yes, that`s the message that`s important to the government friendly NSPCC !]
------------------------------------------------------------------------------------------------------------------------
We're beginning to understand just how far the authorities are willing to go to cover-up their filthy activities as recent reports on VIP abuse scandals have revealed.
Could Crimestoppers be yet another layer of the cover-up?
If we look at who exactly runs Crimestoppers, it becomes even more mysterious.
Here are the names of some of the organisation's Trustees:
1) Nick Ross-
The former colleague of murdered presenter Jill Dando.
His wife Sarah Caplin, is a cousin of
Esther Rantzen and a founding
director of Childline.
Suspicions have been raised that Childline is also a "gatekeeping" front organisation which is used to gather data on any child abuse reports that may involve VIPs.
2) Michael Ashcroft-
The controversial Tory donor who pays no tax and has non-dom status. He has been described as ruthless and "not a man to cross". Made a Baron by Her Maj.
3) Peter Imbert-
A former Commissioner of the Metropolitan Police who was in charge from 1987-1993 and may have a lot of information about why abuse claims made between these dates were ignored. Made a Baron by her Maj.
4) Lord Waheed Ali-
The first openly gay peer in Parliament and a wealthy entrepreneur. Owns a business, Shine Entertainment, with Rupert Murdoch's daughter Elisabeth. Is a close friend of Tony Blair. Made a Baron by Her Maj.
5) Peter Clarke-
A former Metropolitan Royal protection officer in charge of guarding Princess Diana at the time of her death. Made a CBE by Her Maj.
6) Sir Ronnie Flanagan-
A former Chief Inspector of Constabulary. Was previously in charge of policing in Northern Ireland and Iraq. May have a lot of information about why child-abuse rings have been covered up.
Jillings report confirms 'extensive' abuse at north Wales children's homes
Heavily redacted version of 300-page report finally published after 20 years following freedom of information requests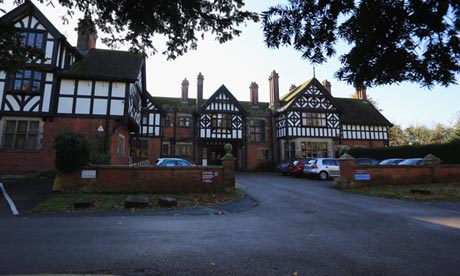 "A report into physical and sexual abuse at
children
's homes that was suppressed for almost 20 years concluded there was "extensive" mistreatment of young people over a "substantial" number of years."
"The
Jillings report
into residential care units in north
Wales
, which has finally been released, said the lives of many children had been blighted by the abuse they suffered while living at the homes.
It said the panel that investigated the abuse had considered abandoning its inquiry as it was not sure it had all the material from agencies including police and social services that it needed to see the whole picture."
"The report also expressed concern that there was no independent mechanism to investigate serving or former police officers implicated in abuse. And it said it had simply not been able to address some areas including the suggestion that public figures had been involved in abuse."
"Complaints that there had been a cover-up over Jillings led to an inquiry headed by the late Sir Ronald Waterhouse, which concluded in 2000 that there had been appalling mistreatment at homes over a period of 20 years."
"At the time of the McAlpine controversy last year some former victims and politicians came forward to claim that the Waterhouse inquiry had been flawed and demanded that the Jillings report be finally published."
"A police investigation ordered by David Cameron at the height of the McAlpine scandal is under way. So far
more than 140 people have told police they were victims of abuse
at children's homes across north Wales between 1963 and 1992."
.
"A legal expert in abuse in residential care, Alison Millar, from the law firm Leigh Day, said: "The refusal to publish this report in full is tragically short-sighted. We are in an Alice in Wonderland situation whereby an independent panel is commissioned to investigate what went wrong and why. The report remains unpublished for over 15 years and then, when it is finally published, the report is effectively gutted so that important sections dealing with the very issue of what the panel found did go wrong are specifically excluded."
"The panel found that almost 4,000 statements were taken by police investigating abuse at children's homes during the period they looked at."
"But the report said: "Of the many statements taken, it is unclear how many were forwarded to the Crown Prosecution Service for consideration."